If you want to be encouraged and inspired about the future of community life in struggling small towns, mark your calendar for this upcoming event in Depew, Oklahoma, which has lately been responding to its challenges in a big way.
(For a recap on Project Postcard in Depew, OK, click here.)
Depew is just about ready to reveal the results of Project Postcard, a two-day community design charrette that we helped out with last November. The community has been working hard to implement changes and create programs to bring everyone together. Everything will be revealed at an all-day Main Street festival on April 14.
Festivities will include the official unveiling of "De Pew" (a new Route 66-inspired attraction on Main Street), street vendors, and artists, with the day topped off by a street dance from 8-10 p.m. Our friend Meagan Vandecar, a student at the OU Tulsa Urban Design Studio and the resident community organizer who has kept the ball rolling on this great effort, sent us the flyer below.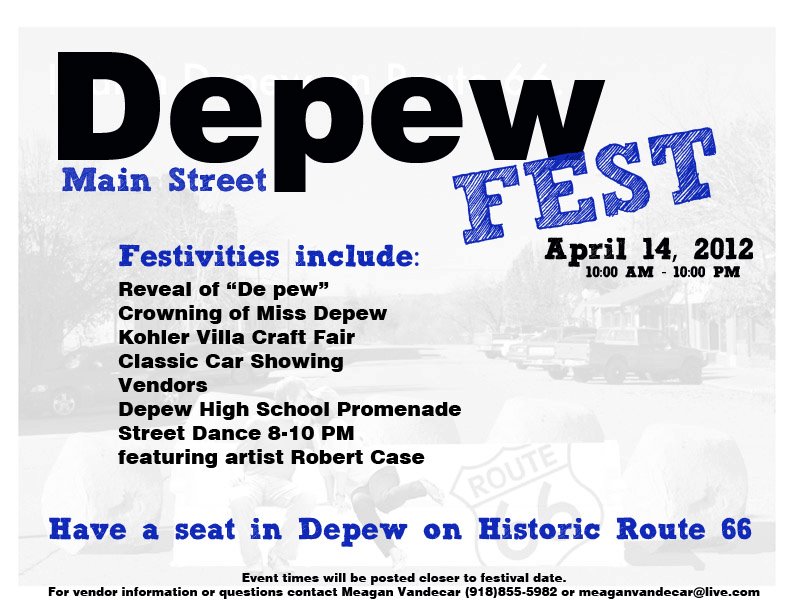 We are excited to see people in the town of Depew coming together to celebrate renewing a sense of community on Main Street!
If you decide to make the trip to "have a seat in De Pew" on April 14, I doubt you will be disappointed by the hospitality you'll get and great stories you'll hear.