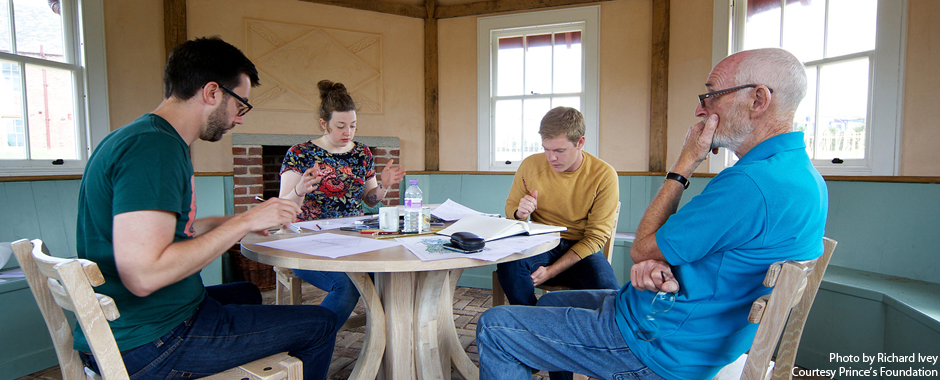 The Institute for Quality Communities, part of the OU College of Architecture, traveled to the United Kingdom to visit the Prince's Foundation for Building Community» to learn from their highly successful summer school program. Here IQC Executive Director Blair Humphreys and IQC Fellow Shane Hampton share their experiences from the program.
Designing a building let us apply all of our new skills and knowledge about architecture and building crafts.
During Week 3, our group was broken into 8 teams to create designs for a woodland shelter that will be the centerpiece of a new arboretum at Dumfries House Estate. Designing a building let us apply all of our new skills and knowledge about architecture and building crafts.
In a short amount of time, teams had to create an interesting design that incorporated the trades of the 10 building craft apprentices, fell within budget, and could be completed within a 10-week period. Luckily, we also had the guidance of the Prince's Foundation tutors and experts.
Midway through the week, 8 teams were consolidated into four, and by Friday's final presentations, a winning design was chosen.
Here you will find summaries of each of our three weeks at summer school, broken down by week. The story is told in a photo slideshow or in full text below.
Week 3
Design week took place in the beautiful Walled Garden education center at Dumfries House. The first priority was to check out the site where the woodland shelter will be built within the future arboretum. We also got a look at some of the materials that have been salvaged from buildings on the estate, which we incorporated in our designs.
Teams got to work quickly and considered many aspects of the design. Would the design be challenging enough for each of the 10 craftspeople, but still be built within the 10-week timeline?
Experts helped answer questions about scheduling the construction timeline, cost, and design.
Midway through the week, four designs were selected to go forward, and teams were consolidated. The new groups continued to refine the designs with sketches, models, and supporting presentations.
Finally, the four designs were presented to a panel of stakeholders. Following the presentations, stakeholders deliberated and chose the winning design.
After the design competition, we had a barbecue to celebrate and say goodbye to our new friends from the program. It was a beautiful last day in Scotland.